De Glasgow (Escocia) para el mundo, aquí lo más reciente de Bobby Gillespie, Andrew Innes, Mani (ex Stone Roses), Martin Duffy y Darrin Mooney.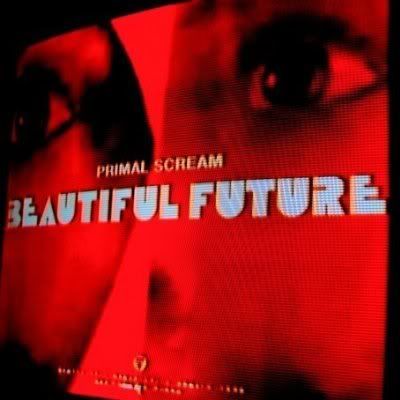 Llevan poco más de 20 años haciendo música y en ese tiempo han deambulado por los senderos del techno, acid house, gospell, rock&roll, punk, garage, shoegaze y la más pura psicodelia. Y se han dado tiempo para codearse con gente como los Dust Brothers, New Order, Depeche Mode, The Chemical Brothers, Kevin Shields (My Bloody Valentine), The Charlatans y recientemente con Josh Homme, Lovefoxxx (CSS) y la cantante folk Linda Thompson. Pero bueno, el album en cuestión es de lo mejor en su catalogo. Iniciando con la juguetona y muy pop (oh oh!) Beautiful Future que recuerda al más reciente de los Charlatans. El segundo corte (Can't go back) es una típica canción de Primal Scream, vertiginosa, con riff demoledor, ritmo macizo, coritos glam, más guitarras, y al final todo al mismo tiempo. Uptown es una muy agradable y descarada mirada a los 80's con todo y arreglo de cuerdas en el coro, bajo muy Manchester, guitarra funky y voz femenina al fondo. El siguiente peldaño es básicamente lo mismo (pero sin funk), con la gracia de que en la letra se anuncia el nombre de una canción que se aproxima (i love to hurt, you love to be hurt). Luego entonces, uno puede encontrarse con las delicias del glam (Suicide Bomb), el gospell perfectamente colocado sobre slide guitars y blues (Zombie Man), un guiño al Depeche Mode de principios de los noventas pero con ritmo marcial (Beautiful Summer), algo de electropop cortesía de Lovefoxxx (I love to hurt, you love to be hurt), un cover bastante bonito a Fleetwood Mac (Over and over) a dueto con Linda Thomson. Y lo mejor del disco son las últimas tres, Necro Hex Blues es un rock nervioso hecho con jams de Andrew Innes y Josh Homme, Urban Guerrilla remite de inmediato a los Stooges pero con algo de New Order. El último corte, Time for Assassins, es psicodelia pura casi instrumental, más o menos veloz y con teclados y guitarras que se quedan en la cabeza un buen rato. Un gran final de disco Una vez dicho lo anterior, me queda agradecer que (por ahora) se hayan deshecho del síndrome de blueseros onda beggars banquet del disco anterior, y que sean de las pocas bandas de su onda que nunca temen a hacer algo diferente obra tras obra.
Por acá les dejo el link para que puedan entrarle sin problemas y el video de Can't go back!